WE SHIP! - CALL US AT 941-468-7815 FOR INFO.
Lot Number: 1
ORIGINAL MICHAEL GODARD OIL ON CANVAS MARTINI ART SERIES - EARLY WORK!
Current Bid$2,000.00
Bids0
Watching1
Winning Bidder
Start Time:6/23/2022 4:00:00 PM
End Time:7/3/2022 11:00:00 PM
Starting Bid:$2,000.00
Bid Increment:$25.00
Estimate Range:$3,000.00 - $6,500.00
THIS IS AN ORIGINAL OIL ON CANVAS BY WELL-KNOWN ARTIST MICHAEL GODARD. THIS IS AN UNFRAMED CANVAS. IT MEASURES 24 1/4" X 30". THE PIECE IS ARTIST SIGNED ON THE FRONT AND THE BACK OF THE CANVAS. THERE IS A PERSONALIZED MESSAGE ON THE BACK OF THE CANVAS. THIS PIECE FEATURES HIS CHARACTERISTIC MARTINI OLIVE THEME PAINTING ON A BLACK BACKGROUND. ONE OF HIS EARLIER PIECES. THIS IS A GREAT INVESTMENT AND WHIMSICAL PIECE TO ADD TO YOUR HOME!
VALUED WELL OVER $6000.00
BIDDING STARTS AT $2000.00 - SELLS WITHOUT RESERVE OVER OPENING BID!
ARTIST BIO: Michael Godard martini art features olives, grapes and other frisky characters busily expressing Godard's slightly off-kilter point of view. With plenty of talent to challenge the 'serious' artists, Michael Godard took his own path instead, and chose to "learn all the rules, and then break them".
Born in Southern California, Godard was a precocious kid with a multitude of talents and a dark home life filled with hidden abuse. He excelled in math, music and art—quite an achievement, considering that his family moved around so much that he attended a total of sixteen different schools. Humor was always his defense and his weapon. As a young man he attended the Art Center College of Design in Pasadena and studied fine art at the University of Nevada in Las Vegas.
The decision to become a full-time painter came later in his life, after stints as a mechanical engineer, commercial illustrator, caricature artist and successful entrepreneur. Nothing came easy—-he fought his way into an art career, inventing his own one-of-a-kind style.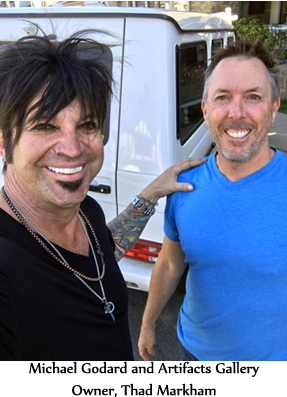 Olives entered the picture when Godard was struggling through his daughter Paige's illness, spending long hours in the hospital when she was in a coma. Desperate for some cheerful element to keep him afloat emotionally, he started a new series of paintings--bringing olives to life in humorous scenarios, rendering them in bright colors against a dramatic black background.
"Three Amigos", "Olive Party" and "Seven Deadly Zins" were all breakthrough pieces for the young artist, launching him to national recognition. His wild marketing stunts brought more notoriety. "I don't mind criticism from the art world or the public," says the artist. "Without it, I'd know I'm playing it way too safe."
Now the country's biggest selling artist, the "Rock Star of the Art World" creates his famous martini-themed artwork for a huge collector base of celebrities, musicians and regular folks who love his irreverent subjects and vibrant style. There's a long waiting list for Godard original paintings and his sold-out giclees bring big bucks on the resale market.
You might spot Godard on television on HBO's "Cat House", A&E's "Mind Freak", "American Casino" and "Inked", among other places. A documentary on his life won awards when it was shown on the independent film festival circuit and his recent book "Don't Drink and Draw" won the Art Book of the Year award.
He looks like a tattooed outlaw and runs with the bad boys, but Godard has a soft streak a mile wide. He's a great dad, contributes to many charitable causes, (including the Paige Godard Foundation, established to help fund research to cure the illness that ultimately took his daughter's life in 2006) and has learned in the school of experience to value the things that really matter in life. "Put good in, get good out," is one of the artist's favorite sayings.
No donations for this lot
Terms of Sale - 13% buyers premium added to the hammer price. There will be a 3% discount given for cash or check payments when paid for in person upon pickup.
We accept all forms of credit cards: Visa, M/C, Discover and American Express. If you would like to pay your bill online, feel free to do so once your invoice is sent to you via email on file. If you did not receive an email, be sure to check your junk folder. Many times it could land there.
All invoices must be paid in full by Tuesday JUNE 14th by 4:00pm.
***PLEASE NOTE*** A $5.00 PER DAY CHARGE WILL BE ASSESSED TO YOUR INVOICE IF YOU DO NOT PICK UP YOUR MERCHANDISE ON MONDAY OR TUESDAY. IF YOU NEED TO MAKE ARRANGEMENTS IN ADVANCE FOR PICK UP - CALL RAY AT 941-468-7815!
1001 Corporate Ave Unit 118
North Port, Florida 34289
United States

Pick up times will be on Tuesday July 5th and Wednesday July 6th from 9:00am till 4:00pm
We will be closed on July 4th!
QUALITY Sarasota Area Estates, Antique and Collectible ONLINE AUCTION event. Another EXCELLENT Online Auction to include a WIDE VARIETY of high quality estate merchandise to include exceptional Fine Art from such artists as Michael Goddard, Carrie Graber, Melissa Markell , Rembrandt 2005 etching created from his original 1650 copper plate. Decorative Arts, Fine Art, Fine Gold & Gemstone Jewelry, Sports Collectibles, Furniture and so much more. Great auction loaded with a lot of high quality merchandise. Join us in bidding online!
IF YOU HAVE QUALITY MERCHANDISE YOU WOULD LIKE TO HAVE INCLUDED IN THIS SALE OR OUR FUTURE ONLINE AUCTIONS, PLEASE CALL US AT (941) 468-7815.