A2Z Medical Supply Inc. | Vision of Light Corp.
Online Auction Only
A2Z Medical Supply Inc.
Assignment for the Benefit of Creditors Case No. 22-003767-CACE-05
Vision of Light Corporation
Assignment for the Benefit of Creditors Case No. 2022-004179-CA-01
Auction lots will close on: Tues, August 30th, 2022 at 10:00 A.M.
Pick-up | Removal Location: 1885 Marina Mile Blvd., Suite 103, Fort Lauderdale, FL 33315.

Sale will consist of: medical supply inventory including mobility equipment, orthopedics, wound care, respiratory, patient care, ostomy, incontinence supplies, daily aids, rehab and therapy equipment, eyeglass frames, metal shelves units, plastic storage bins, large trade show cases, computer peripherals, personal transport rolling cases/bags, office equipment, office chairs, supplies, miscellaneous items and more.
Inspection | Preview date: Mon, August 29th from 10:00 am to 4:00 pm by appointment.
Visit our website for additional information, terms of sale and catalog at www.moeckerauctions.com (800) 840-BIDS | (954) 252-2887
Partial terms of sale:
1. Condition: All items are as is, where is, with no warranty expressed or implied.
2. Registration: $100.00 refundable CREDIT CARD/CERTIFIED FUNDS deposit and proof of account validation. Must be 18+ years old to participate.
3. Buyer's Premium: Online/Proxibid: 17% BP.
4. Inspection: All bidders are urged to inspect the property prior to placing a bid. Bidders shall be the sole judge of value, condition, age, genuineness, authenticity, defectiveness, or any other determinative factor. Inspection period is available by appointment on August 29th from 10 AM to 4 PM. No walk-ins allowed. We request visitors to wear face coverings when visiting our site for your safety as well as ours.
5. Full Payment Due: No later than 4PM on 08/31/22.
6. Sales Tax: 7% Local sales tax will be added to the purchase of all taxable items.
7. Accepted Forms of Payment: Now accepting ZELLE! Please use the following primary account email address to initiate a transfer: erodriguez@moeckerauctions.com. Visa, MasterCard, Discover Card (credit cards or debit cards) for invoice $500 or less (AMEX not accepted) plus a 3% convenience fee. Payments over $500 MUST be paid via CASH, CERTIFIED FUNDS or WIRE. We do not accept company checks or personal checks.
8. Removal/Checkout: Buyer is allowed 3 days for pick-up: 08/31, 09/01 and 09/02 from 9AM to 4PM by appointment only. It is the buyer's responsibility to pick up or arrange to have items picked up by the allotted time and must supply their own handling equipment, trucking and personnel. Under no circumstances will any items be removed prior to the conclusion of the sale.
9. Pick-up/Removal Location: 1885 Marina Mile Blvd., Suite 103, Fort Lauderdale, FL 33315.
10. Distributed Information: All announcements made on auction day shall take precedence over previously distributed information. Withdrawal/Cancellation: Moecker Auctions reserves the right to withdraw from sale any of the items listed in the catalog/brochure before, during, or after the auction without liability. Moecker Auctions reserves the right to cancel the sale at any time for any given reason.
#moeckerauctions
Registration, catalog, photos and terms available at
https://moeckerauctions.com/2022/06/23/a2z-medical-supply-inc/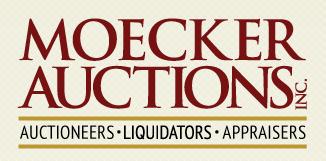 Moecker Auctions, Inc
1885 Marina Mile Blvd., Suite 103, Fort Lauderdale, 33013
Preview Starts and Ends
Ends on