ABSOLUTE AUCTION ALL CONTENTS OF NURSING & IT SCHOOL
ABSOLUTE ONLINE AND LIVE AUCTION
OF ALL CONTENTS OF A NURSING AND IT TECHNICAL SCHOOL.
ONLINE BIDDING WILL BEGIN SEPTEMBER 1ST AND WILL END SEPTEMBER 15TH AT 5PM. ALL ONLINE BIDS WILL BE MOVED TO THE LIVE ONSITE AUCTION AND WILL BE THE OPENING BIDS ON SATURDAY SEPTEMBER 17TH AT 10AM AUCTION.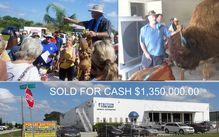 Allcoast Auction & Realty
13500 POWERS CT. , Fort Myers, Florida 33912
Preview Starts and Ends
Ended on