SUPER SHORT NOTICE AUCTION
SUPER SHORT NOTICE ABSOLUTE AUCTION
SAT, FEB 18TH 10 AM, PREVIEW 9 AM UNTIL AUCTION START.
NOT A LOT OF PHOTOS AT THIS TIME MORE COMING. COMING OUT OF A BEAUTIFUL
ALVA ESTATE HOME. FAMILY IS MOVING AT THE SAME TIME AS WE ARE TRYING TO SET THIS UP.
SO CHECK BACK FOR MORE PHOTOS AS WE GET CLOSER TO AUCTION DAY.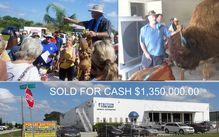 Allcoast Auction & Realty
18210 RIVERWIND DR, Alva, Florida 33920
Preview Starts and Ends
Ended on