SEPTEMBER 29 - FRIDAY AUCTION - 6:30 PM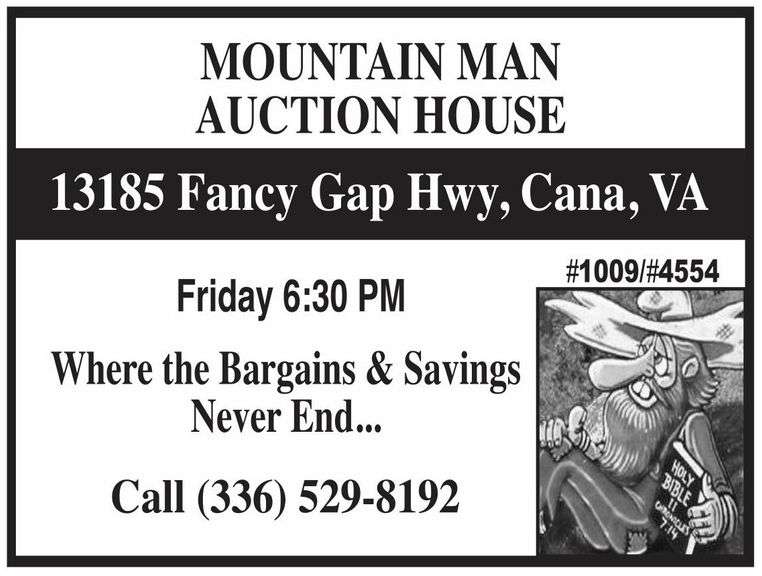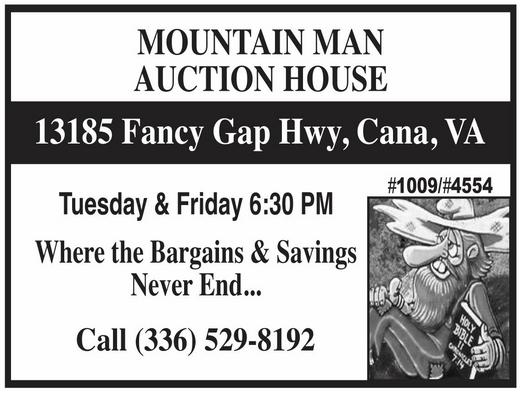 Preview Starts and Ends
Auction Starts:
Mountain Man Auction House is Veteran Owned and Operated.
Mountain Man Auction House is a full service auction house where the bargains and savings never end.
Come join the auction chorus with Mountain Man Auctioneer Colonel Billy Morris.
He will treat you like a friend.
We would love to see you every Tuesday and Friday night starting at 6:30 pm.
Billy and/or Greg will be preaching great deals and having fun throughout the sale.
Our doors open at 5:00 pm and everyone is welcomed to come early to enjoy a free entrée while it last and get a good seat.
13185 Fancy Gap Hwy
Cana, Virginia 24371
Join us for our next auction on...
Friday - 6:30 PM
We look forward to seeing you....
Come eat, have fun and bid to win some
great bargains, prizes and savings.
Our Sellers always bring great deals.
Mountain Man Auction House
October 2023 Schedule
Sep 29 - Friday - J. Hill Jr
Oct 3 - Tuesday - 8 Sellers
Oct 6 - Friday - Cossie Ayers / Travis Jones
Oct 10 - Tuesday - 8 Sellers
Oct 13 - Friday - Anna Gross / Juanita Easter
Oct 17 - Tuesday - 8 Sellers
Oct 20 - Friday - David Davis / Gina Fargnoli
Oct 24 - Tuesday - 8 Sellers
Oct 27 - Brett Nance / Mike Hutchinson
Thank you for helping make Mountain Man Auction House the best dang auction in town!
All onsite sales must go through the auction house.
Fee due on all sales of any items bought or sold on site.
No alcohol, illegal drugs or profanity.
All sales final with no refunds or returns.
Mountain Man Auction House and staff are not responsible for any children or their actions.
The auctioneer and owner have the right to refuse service to and or ask any individual to leave.
No solicitation of buyers and sellers while on these premises. Anyone caught doing so will be banned from this facility.
Please review your invoice before leaving each auction and bring any discrepancies to our immediate attention so we can take corrective action before you leave.