Absolute Southeast Game Brokers Auction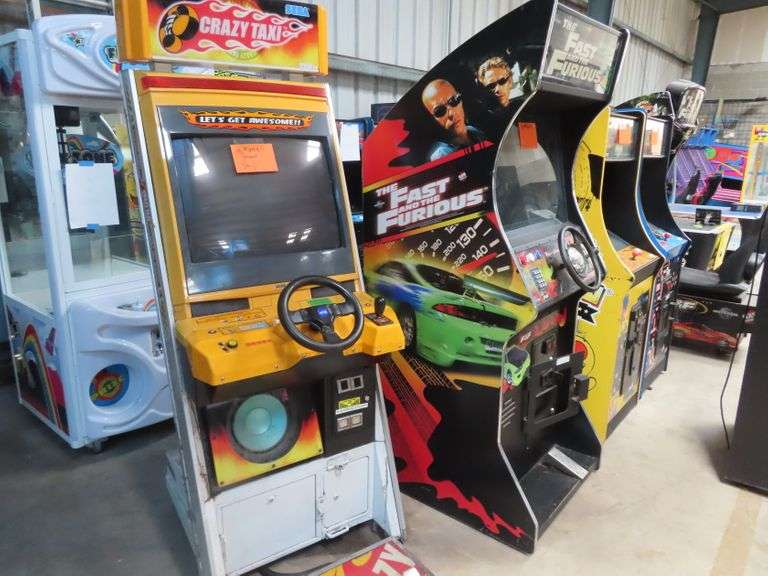 Preview Starts and Ends
Auction Starts:
Day of Auction - 8am - 10am
ABSOLUTE AUCTION
FORMER "SOUTHEAST GAME BROKERS"
TUES 7/12 @ 10AM
PREVIEW 8 – 10 AM SALE DAY
(727)-548-9303
LOC: 3346 ELFERS PKWY, NEW PORT RICHEY 34655
ONLINE BIDDING https://bayareaauctionservices.liveauctiongroup.com
On Behalf Of The Owner/Principal, We Have Been Commissioned To Sell The Entire Asset Inventory Of This Arcade Game Supplier (Restaurants, Arcades, Youth Indoor Acitvity Centers, ETC) To The Highest Bidders Regardless Of Price At Live And Live Internet Public Absolute (No Minimums) Auction! Huge Variety of Coin Operated Games of Any and All Sorts + Party Supplies and Maintenance Tools All Selling At Auction Prices! Why Pay Retail?!!
Highlights to Include: (Most Are Multiples)
Santa Fe Express Child Train, Crazy Taxi, Ice Ball, Fast N Furious, Galaga, Air Hockey, Toy Chest Claw Pick-Up, Driving Games, Basketball, Wheel Of Fortune, Big Buck Hunter, Donkey Kong, Pac Man, Jumper Jackpot, Barder Cut, Nicktoons Racing, Tortoise and Hane, Beanie Zone, NFL, Touch Tunes, Konomi, Extreme Hunting, Tekken 5, Rush 2049, California Speed, Silver Swing Bowling, Golden Tee, Real Golf, and Much More!!!
Plus Gumball and Toy Dispensers, Coin/Token Machines, Food Service Equipment, Huge Parts Inventory, Tools, Warehouse Equipment and Much More!!!
This is a Large Auction!!!
12% BUYERS PREMIUM IN EFFECT
DEALERS – PLEASE DO NOT FORGET TO BRING YOUR 2022 RESALE CERTIFICATE! WE WILL NEED THIS ON AUCTION DAY IF YOU WISH TO BE TAX EXEMPT! NO EXCEPTIONS!
TERMS OF SALE: Everything will be sold to the highest bidder or bidders for cash in accordance with the Auctioneer's Customary Terms of Sale, copies of which will be posted on the premises. All items are for cash and sold AS IS", "WHERE IS". All Payments must be made by CASH, VISA/MC, Certified Check, or Company Check with a bank letter GUARANTEEING payment and made Payable to Bay Area Auction Services, Inc. All purchases will be sold "AS IS" and subject to applicable federal, state, and local taxes, if any. Bay Area Auction Services, Inc. assumes no liability for error or omissions in this lettering. (*Subject to approval)
Pick up Times:
Tues 7/12 Until 3:30
Wed 7/13 9-3
Thurs 7/14 9-3