ABSOLUTE RESTAURANT LIQUIDATION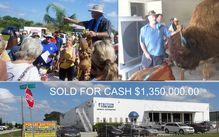 Begins Closing:
TOTAL LIQUIDATION OF 11,000 SQ FT RESTAURANT
ONLINE ABSENTEE BIDDING LIVE NOW ON HIBID.COM AND GOES TO SATURDAY SEPTEMBER 24TH AT 5PM.
https://hibid.com/catalog/396484/swjd92622
ONSITE LIVE BIDDING WILL BE ON MONDAY SEPTEMBER 26TH AT 10 AM. PREVIEW IS 9AM.
COMPLETE CONTENTS OF 11,000 SQ FT RESTAURANT.
This bidder contract entered into between the Bidder, whose name is signed above and the auctioneers. Bidder agrees that the terms listed below shall govern this auction and he/she agrees with them. Additional terms may be posted or announced from the auction block and these terms are just as binding as the ones listed below. 1. Full Payment - All items must be PAID IN FULL before bidder leaves the auction. Nothing may be removed until it is settled for. Payment for purchases must be made by cash, check or charge card with proof of identity. All sales are subject to local sales tax and 10 % buyers premium. Bidder agrees Not to stop payment on checks or credit cards and is responsible for any charges incurred for collection of a bad check. The Auctioneer has the right to repossess, at any time, at your location, the merchandise involved with a bad check. 2. Warranty - all items are sold as is, where is, without guarantee of any kind. The description in our advertising is believed to be correct, nevertheless, neither those descriptions nor any oral statements made by the owner or his agents or the auctioneer concerning any item shall be construed as a warranty, neither expressed or implied. I, the bidder have inspected the merchandise and accept it the way it is. 3. Disputes - The Auctioneers shall designate the winning bidder after each item is auctioned. If a disputes arises between two bidders, the Auctioneers reserve the right to reopen the bidding. The Auctioneer's designation of the buyer is final. 4. Buyer's Responsibility - After a bidder has won the bid, they are now the new owners of this item, even though they may not have paid for the item yet. The item or items is the sole responsibility of the buyer and they assume all risk for loss or damage, buyers should guard their items accordingly. Watch your ITEMS! 5. Injury and Damage - Bidder acknowledge responsibility for any personal injury or property damage caused by bidder or his agent and further agrees to hold Auctioneer harmless from any personal injury to himself or his agents and any property damage incurred on auction premises. 6. Agents only - The Auctioneers are acting as the Agents for the Sellers only. I have read the bidder contract and hereby agree to the above terms and conditions by signing this contract.
DAY OF SALE FOR MOST ITEMS
THE TOTAL LIQUIDATION OF THE LEOPARDIS RESTAURANT, ALL EQUIPMENT, CHAIRS, TABLES, CHAIRS, BAR STOOLS, SOUND EQUIPMENT, BEER TAPS, BAR EQUIPMENT AND MORE. ONLINE BIDDING FOR APPROXIMATELY 38 LOTS WITH REMAINING ITEMS TO BE SOLD AT LIVE PUBLIC AUCTION. ONLINE BIDDING WILL BE FROM SEPTEMBER 9TH AND WILL END ON SEPTEMBER 24TH AT 5 PM. ONLINE BIDS WILL BE MOVED TO THE LIVE AUCTION ON MONDAY SEPTEMBER 26TH AND WILL BE THE OPENING BIDS ON SAID ITEMS. THE LIVE ON SITE PART OF THE AUCTION WILL START AT 10AM ON MONDAY SEPTEMBER 26TH AT THE RESTAURANT 13851 S. TAMIAMI TRAIL, FORT MYERS, FL. 33912