Victory Baptist Academy Charity Absolute Auction Liquidation Sale
Victory Baptist Academy Charity Absolute Auction Liquidation Sale
Please join us for this charity auction on...
November 4 - Saturday - 10:00 AM
15,000 Square Feet Warehouse Content Sale
@ 90 Featherstone Dr, Collinsville, VA
New and slightly use merchandise such as clothes, construction material, furniture, lawn mowers, shelves, tools, and much much more.
Come help us raise funds to get playground equipment the wonderful children at Victory Baptist Academy will be able to enjoy for years to come.
Church and Academy volunteers who desire to help organize the lots for this auction and/or assist during the auction should contact either Pastor Dan Schelling or Cynthia Gammons directly.
All Attendees are requested to bring at least one can of food to the auction to donate to the Victory Baptist Food Pantry.
We have used our 15,000 square feet warehouse @ 90 Featherstone Drive in Collinsville, VA for years to store the many gracious donations from our loving community. Now it is time to sell these stored items to raise funds to use for our children's academy playground. This is why we are offering these wonderful items for sale via absolute auction. Preview and registration begins at 8:00 am on day of sale. You are personally invited and we hope to see you there. Between now and the auction, we will be attaching pictures of just a sampling of the available items as we sort through and lot them out in the warehouse. We will try do our best show you an idea of what you might expect to find at our absolute auction November 4, Saturday, starting at 10:00 am.
TERMS AND CONDITIONS:
Five Percent (5%) Buyer's Premium applied to all purchases.
All items sold as is - where is without any expressed or implied warranties or guarantees.
Complete payment shall be made on Day of Sale.
Purchaser is responsible for merchandise as soon as it is sold.
Handling, loading and removal of bought items is Purchaser's responsibility.
No Warranty is made or implied by Auction Firm or Auctioneer.
All announcements made by the Auctioneer take precedence over previous announcements or advertisements.
Acceptable Payments - Cash, Good Local Checks With Pictured ID's & Credit/Debit Card with Additional Three Percent (3%) Fee Charged with use of Check & Credit/Debit Card. Buyer guarantees that buyer will not stop payment on any check, credit card or debit card that buyer gives for any purchases.
Consigner and auction staff may bid with full intentions of buying.
DRINKS AND FOOD WILL BE AVAILBLE FOR PURCHASE.
Auction Firm: Mountain Man Auction House - VAAF #1009
Auctioneers: Billy Morris & Greg Slate - VAAL #4554 / #3468
Firm Address: 13185 Fancy Gap Hwy
Cana, VA 24317
336-529-8192
Additional info and picture will be posted.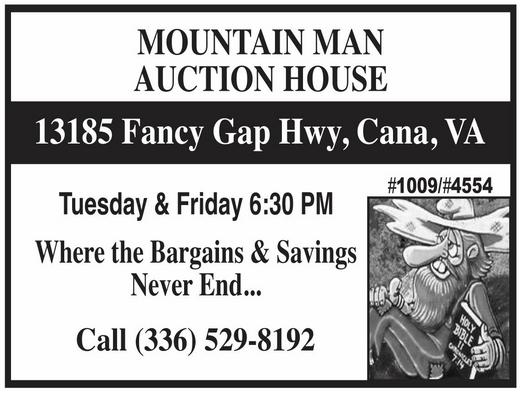 Mountain Man Auction House LLC
90 Featherstone Dr, Collinsville, Virginia 24078
Preview Starts and Ends
Ends on